Over the years, Speech/RATV/RTVF progressed through a series of video switchers, each new one having improvements over the last.  The department of 1975-83 was not the first to construct their own equipment.  Remarkably enough, this philosophy was adopted very early in the history of the department.  The year was 1964.  A switcher apparently used for live television courses was already in service, and was being updated to vertical interval switching by a University of Maryland engineer.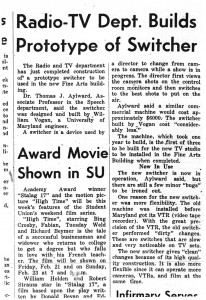 The above article appeared in the Diamondback on February 20, 1964.  By this time, the Speech Department had already been providing live television courses for 5 years.  Clearly, some type of production switcher had been in use prior to 1964.  This was likely some type of "glitch switcher" and may or may not have even had dissolve capability.
In the early 70s, I enrolled in RATV 340, and it was taught in Studio "B".  I vaguely recall that at least on one occasion, the class could not use the switcher because it was non-operational.  It was a simple control panel, and nearly certainly was one of the switchers mentioned in the Diamondback. It almost surely operated with vacuum tube circuitry.
Studio "A" was equipped with a Richmond Hill switcher.  It had been modified with a front-of-sync-board "burst delete" switch so that it could operate in monochrome mode.  At the time, it had only 4 inputs.
Sometime after 1978, our budget permitted us to purchase a brand new Duca-Richardson switcher.  We purchased a very early model of what would eventually become the Ampex switcher product line.  Only one M/E.  Lots of button pushing and fiddling in order to dissolve to a key.  That became a mantra at RTVF.  Along with "does it make coffee?", "can it dissolve to a key?" became a staple of short-cut jokes between Bob Mc Cleary and the techs.  (Last but not least…"THERE's my baloney sandwich!")  You had to be there.
Jim Duca personally delivered it and set it up.  He made RTVF history in two ways: First, to demonstrate how durable his Fluke digital voltmeter was, he flung his as hard as he could across Tech Center where it hit a wall and came apart into several pieces.  He put them together and it still worked.  Second, he had to come up with diode clippers on all the video inputs to keep spikes from the TR-22s lock-up "hysterics" from punching through to the line output.
After my departure, Bob Swanner. added a GVG 1600 to the Convergence Editor on-line room, and later added a GVG 200 to Studio "A". Both purchased NEW, and both offering a dramatic improvement to the facility capabilities.